WE ARE FAMILY PROMISE
Transforming the lives of families experiencing homelessness.
Because every child deserves a home.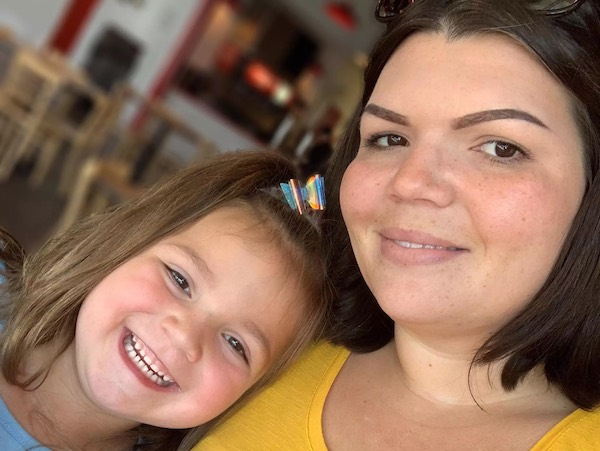 WHO WE ARE
Family Promise envisions a nation in which every family has a home, a livelihood, and the chance to build a better future. What began as a local initiative in Summit, NJ, has become a national movement that involves 200,000 volunteers in 200+ communities in 43 states. Our volunteers provide hospitality, companionship, and most importantly, community.
READ MORE >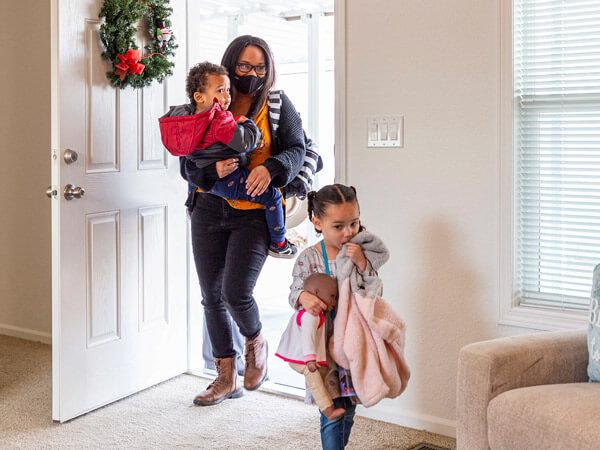 WHAT WE DO
Family Promise delivers innovative solutions for family homelessness including prevention, shelter, and stabilization services. We have served more than 1 million family members since our founding more than 30 years ago, and we aspire to change the future for 1 million children by 2030 through our community-based programs.
READ MORE >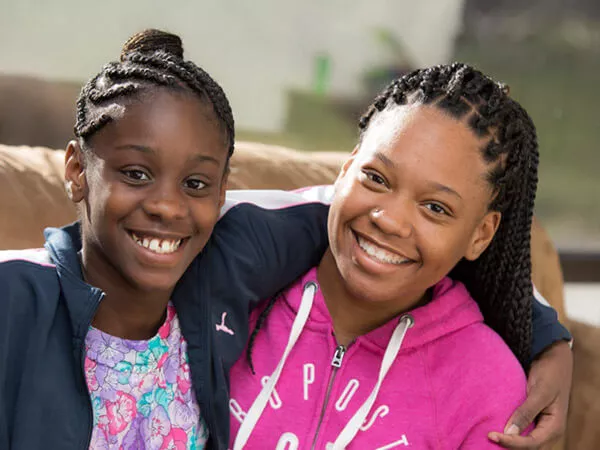 WHY WE DO IT
There is a severe shortage of affordable housing in America, exacerbated by rising rents and stagnant wages. With little or no safety net, one unforeseen expense or emergency can lead to family homelessness. We envision a nation where every family has a home, a livelihood, and the chance to build a better future.
READ MORE >
Family Promise Helps California mothers fighting for a home in a pandemic
The state has the largest homeless population in the US and Covid-19 has exposed how precarious the safety net is. Family Promise is here to help.
READ MORE >
"I feel a sense of purpose now... Family Promise is helping me get to a better place and obtain that stability."
– Faith, Graduate, Family Promise-Union County
"We all have a story to tell, and everyone's story is different. Family Promise knows how to meet people where they are and address their needs as they arise."
– Family Promise volunteer
"At Family Promise, we can make a difference in the lives of others by bringing a community together."
– Susan Crossley, Executive Director, Family Promise Metrowest (MA)
"Our goal is to make home ownership more attainable, which leads to greater family stability, wealth creation, and building a better future."
– Kevin Clayton, CEO of Clayton
DONATE TO FAMILY PROMISE
Your donation will make all the difference.
"You can use any kind of skill that you have to give back. You'll learn a lot as a volunteer. And when you meet folks that may be very different from yourself, it's an eye opener. You never know what a person has been through, how they ended up in a certain situation. All you can do is help." – Bob, a Family Promise Volunteer in Pennsylvania
EXPLORE VOLUNTEER OPPORTUNITIES >
"I want to help others with whom I have shared experiences. I believe that the most valuable asset given to me by Family Promise is the relationships that continue to exist, the mentorship that still takes place, and the help I have received in many areas of my life when I have needed it. I want to pay it forward."  –REBECCA ESPARZA, GAC Member
BOARD & COMMITTEE OPPORTUNITIES >
We believe that family homelessness needs a community response. Our partners are a key part of that solution.
EXPLORE CORPORATE & NONPROFIT PARTNERSHIPS >
Enter your zip code or address to find the Family Promise Affiliates in your area.
November 2 @ 7:00 pm

-

10:00 pm
SUMMIT, New Jersey, September 18, 2023 – Family Promise and Progressive are joining forces to combat family homelessness through donations and volunteerism. Beginning in September, Progressive employees will have the chance to volunteer across Family Promise's network of approximately 200 Affiliates across the country. Family Promise's diverse range of volunteer …
READ MORE
From the time he was 13 years old, James* lived with his grandmother, Alice. She dedicated her time to raising and eventually becoming the legal guardian of her grandson. Despite the challenges of raising him on her own, she strived to provide for James and support him in what he …
READ MORE